Ognjen Micovic
Roaming Reporter from Giffoni Film Festival
//Italian version below//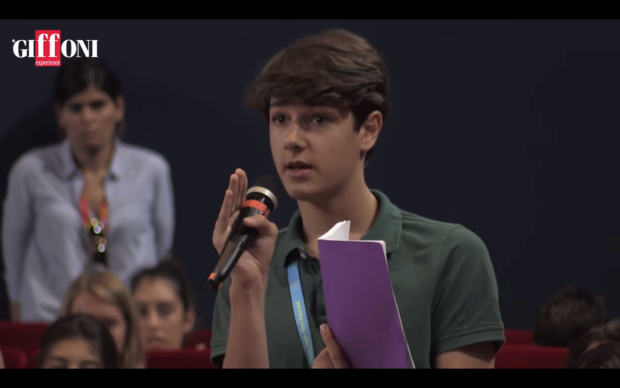 When you come to Giffoni you become a completely different person, you're point of view changes. You meet people from countries you didn't know existed. This is one of those cities that light up during these ten days, it is reborn. In every corner of this place something is happening, whether it's a concert, a game of volleyball, a guy juggling,someone singing,kissing etc. When we are not watching the movies and participating in the incredible debates and q&a's we go to the famous "Hollywood Park", we play soccer,basketball,volleyball, badminton we eat, talk, it's basically a "fun hub". If we want to eat pizza we go to the Cycas pub,if we want to drink something we sit next to the fountain at the Mexico pub where everyone is dancing. If we want to enjoy a beautiful sunset we take a 15 minute walk to the Giffoni stadium and go to the top of the stands and relax. It's my third year here and I fell in love with this festival, I can't remember the last time I was bored. The friends i make here are my friends for a lifetime, so many cultures bond together and i know that i will never forget them. The movies are fantastic and the fact that you can share you're opinion in a room with more than 100 people is astonishing. In Giffoni you can do whatever you want,wear whatever you want, and be whoever you want. It's a utopia of experience.
Quando si arriva a Giffoni si diventa una persona order topamax completamente diversa, il tuo punto di vista cambia. Si incontrano delle persone da paesi che non sapevi esistesse. Questa è una di quelle città che si accendono durante questi dieci giorni, la città rinasce. In ogni angolo di questo luogo qualcosa sta accadendo, forse un concerto, un gioco di pallavolo, partita di badminton, qualcuno che canta, qualcuno bacciandosi ecc. Quando non stiamo in sala a vedere i film e partecipare alle incredibili dibattiti e q&a andiamo al famoso " Holywood Park ", dove si gioca a calcio, pallacanestro,biliardino umano, si mangia, si parla, è praticamente un " hub divertente ". Se vogliamo mangiare la pizza andiamo al pub Cycas, se vogliamo bere qualcosa ci sediamo accanto alla fontana al pub Messico, dove tutti ballano. Se vogliamo goderci un bel tramonto facciamo una salita di 15 minuti a piedi allo stadio Giffoni e ci mettiamo in cima degli stand e ci rilassiamo con i amici della giuria internazionale. Questo è 'il mio terzo anno qui e mi sono innamorato di questo festival, non mi ricordo l'ultima volta che ero annoiato. Le amicizie che nascono qui sono le amicizie per tutta la vita, tante culture si legano insieme e so che non potrò mai dimenticarli. I film sono fantastici e il fatto che è possibile condividere i tuoi opinioni in una stanza con più di 100 persone è sorprendente. In Giffoni si può fare quello che vuoi, indossare quello che vuoi, e di essere quello che vuoi. E 'una utopia di esperienza.