Breaking NEWS: During the closing Plenary Session, today (19th of February) on the IIPT World Symposium, South Africa "Cultivating a Culture of Peace and Sustainability" announced DANUBE PEACE BOAT E.U.R.O.P.E. one of Legacy Project of the Symposium.

International Youth Media Summit and
Media Education Centre
Present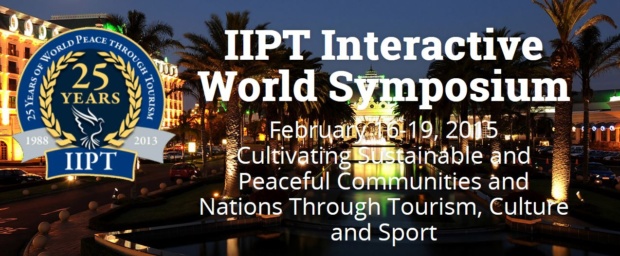 Interactive World Symposium
Johannesburg, South Africa, February 16-19, 2015:
Cultivating Sustainable and Peaceful Communities and Nations through Tourism, Culture and Sport
Synergy Circles, 18th of February:
As we have such an impressive gathering of internationally prominent practitioners among our concurrent session
presenters we believe this is an excellent opportunity to harness the insights, wisdom and experience of everyone
present in a manner that goes beyond presentations.
IIPT is therefore adding a new feature to the Symposium that we are calling "Synergy Circles." These will be highly interactive – and fast paced – facilitated sessions where ideas that have been generated in advance of the Symposium – and during the Symposium, will be briefly outlined and communicated so that both concurrent session presenters and delegates can decide which idea or set of ideas and "synergy circle" they would like to participate in.
The aim of the synergy circles is to rapidly brainstorm the briefly introduced idea(s) with suggestions related to its/their enhancement and effective implementation in a "synergistic manner" in the months/years following the Symposium.
Projects included in the Synergy Circles are:
World record setting journey by Cassandra (Cassie) De Pecol to each of the 196 soveign nations in the world.
A Youth Platform for Peace – and internet based social media platform where the young can meet to share ideas and collaborate towards mutually agreed on goals.
Destination Alliance for Southern Africa
Danube Peace Boat – promoting dialogue and diversity regarding tourism, youth, heritage and environment