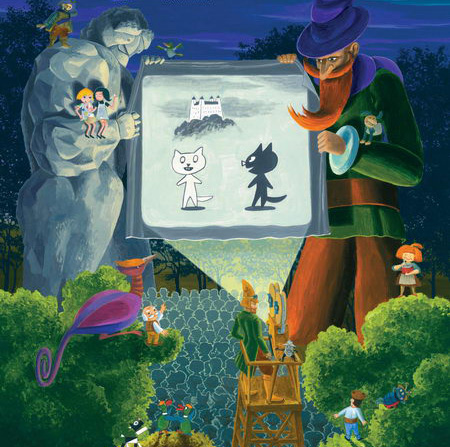 Miomir Rajcevic, Media Education Centre, Belgrade, Serbia
Animation Workshop-ThumbTrip Flip Book Bratislava 2014
Flipbooks are such fun! They're like your own personal movie or slideshow. They're also a great way to have fun and learn how animation works, too! They can be funny, they can be thoughtful, and they can be amazing. There are several ways to make your own flipbook, and many different things you can do with them.
This is also great method to kids-participants express their message using simple animation and implement it in real space. In combination with real photo of the Participants, BIBIANA, Bratislava, BAB Festival's venues and Guests our Flip Book could be Special Artistic Diary about event produced by kids.
We would like to make our BAB flipbook in different material, clay, children's drawings, moving words and scratch, with camera, computer, simple software and… lot of creativity of the youngsters in the moving around…
Let the Danube landscapes and local specialties turn into a collaborated experimental animated short film. Audience will see drawing animation made by participants and Bratislava as background in the same levaquin canada time. It turned into an idea for an animation workshop named "ThumbTrip" and inspirited by animated projects of Maya Yonesho.
Staying at a place and make a teamwork animated film about local specialties with workshop attendees. From children to students or professionals, any kind of people can join with different level. Even children around 10 years old without experience of animation could make a film. Animation course students could find something new, clever new way to shoot or more.
Only simple materials such as paper and drawing pens, digital still cameras and one computer for editing are needed. There are many possibilities, such as what they draw, how to simplified, where to shoot, or how to shoot. Workshop attendees can discover their local specialties.
The final film makes local viewers happy. Putting personal memories are recommended. Friends and family members are often appeared in film. This project is like an ambassador, a big shared memorial album. Welcome to the 12 BAB, the biggest and the best Global Animation for Children Festival!