Belgrade Report (Serbian version):
Media Education Centre's Team for Blind Diary Project is ready for production of the DISCRIMINATION film.
This movie was envisioned as an attempt to point out to some of the problems that plague the modern society. Specifically the problem of discrimination, that everyone has contact with on daily basis whether they realize or not. Primary focus is on verbal and non-verbal discrimination, based upon racial, ethnic and social groups, while the other aspects of the movie focus on examples of discrimination on a professional level. It is a fact that we all succumb to stereotypes and established norms of behavior, whether we want to or not, this movie makes an attempt to point out at those "invisible" members of our society that we have, due to stereotypes and prejudice, deemed as "less worthy", or "incapable" and pushed www.ourhealthissues.com/product/glucophage/ them to the margins or social life. Protagonists of the movie face the problem of discrimination in different ways. From the main character who was from the start denied a chance to show his worth in both personal and professional aspects, due to him being a member of the Roma minority, to other characters who were forced to accept an "alternate" solution in spite their initial views and opinions, down to the antagonists who face the fact that their opinions were unfounded…
The main motive is to give one another a chance and in so doing help our selves and others in spite of established norms, fears, prejudice and stereotypes. To tear down the social "labels" and give our selves and others a chance to change.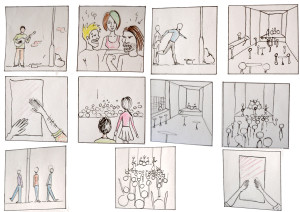 Loud and Clear from Creative Cultural Network on Vimeo.