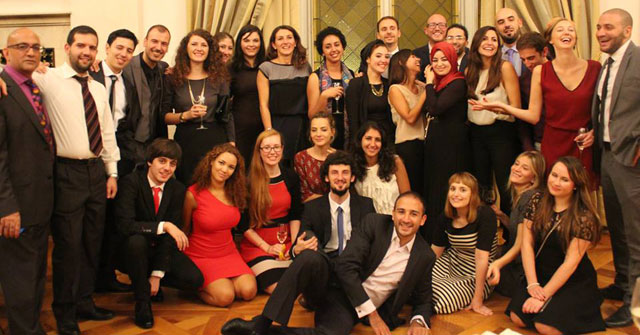 The second edition of the United Nations Alliance of Civilizations (UNAOC) program  (E4SC) took place in Torino, Italy from 16-22 October 2014. The training sessions, held at Fondazione CRT headquarters, brought together 20 young social entrepreneurs from 14 different countries, selected from among more than 700 applicants.
Ten experts from the roster of the United Nations Alliance of Civilizations provided training sessions which  focused on building business models, fundraising, generating employment, facilitating intercultural understanding, engaging local communities, and addressing marginalization. The ultimate goal was to guide those young entrepreneurs to the best practices of how to foster non-violent  social change while, at the same time leveraging their businesses.
Following the training, these young social entrepreneurs  will have the opportunity to benefit from one-on-one and group mentoring sessions, where they practically apply lessons they learned during the training, such as  how to approach potential investors and strengthen their business plans, as well as test their social impact. One mentor forhealthylives.com/product/celexa/ works with each trainee for a period of 9 months to incubate his/her entrepreneurial idea and help move it forward.
By drawing on the network of the United Nations Alliance of Civilizations, the social entrepreneurs become part of an international community of practice.  This enables them to create opportunities to expand their start-ups, learn how to use intercultural challenges to their advantage, stay in touch with and learn from their peers around the world, present their projects to potential investors and donors, and become mentors for future entrepreneurs.
In his message to the participants, the High Representative for the United Nations Alliance of Civilizations, Nassir Abdulaziz Al-Nasser, encouraged the "young social entrepreneurs to be agents of positive change when it comes to building peaceful and inclusive societies".
Stories of the participants got a lot of traction from La Stampa, one of the major Italian newspapers:
http://www.lastampa.it/2014/10/28/medialab/webdocauto/dalle-primavere-arabe-al-business-sociale-i-nuovi-imprenditori-del-mediterraneo-pMugIrKhrh689SohYPmgtJ/pagina.html
For more information on Entrepreneurs for Social Change Program, go to: www.unaocyouth.org/e4sc