By Miomir Rajcevic
Summary of my presentation in the Doha Summit,
2nd and 3rd December 2014: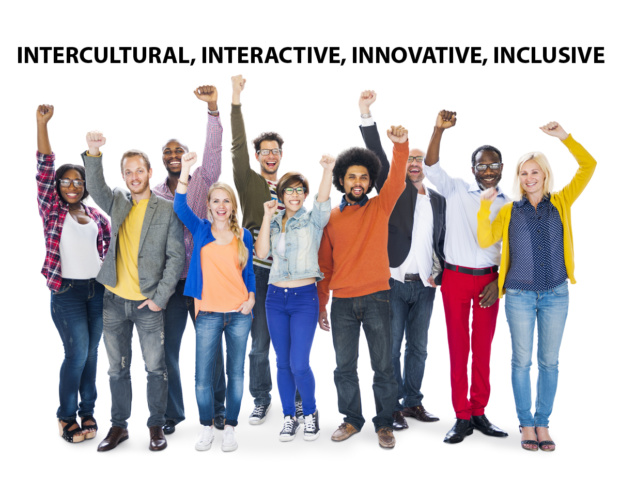 INTERCULTURAL, INTERACTIVE, INNOVATIVE, INCLUSIVE
Harmony in Diversity, Cross-Cultural Collaboration, Filming and Media Education
We are building EDUCATIONAL movement with media and information literacy like tools for Motivation, Innovation, Creation, Presentation and Evaluation of the movies, animation, TV and Radio Programme produced by professionals but also by kids and young authors. We design experiences that make learning irresistible. Big Festivals of films for kids and youngsters are beginning and end of our journey, alpha and omega of the media literacy, motivation and school for evaluation, one of the main pillars of the Media Literacy. What is second? Our Intercultural, Interactive, Innovative and Inclusive media, informative and peace literacy process, permanent open school for all interested children, young people, teachers, parents and population generally. Through our new media pedagogy process we are use MIL to bridge prejudices, from Exclusion to empowerment. We are teaching participants about ideals of civilizations:
• Trust and respect of diversity
• Transformation and responsibility in creation
• Fairness and partnership in cooperation
Our interactive pedagogy change relationship between Teachers and Pupils: we offering workshops to show to participants that Education is Partnership between the Teachers and their Students. Over this process we empowering teachers, we empower all participants to thrive as active citizens in the connected world. At the IYMS students and teachers work together across cultures, religions, ethnic backgrounds and political viewpoints. The seven PSAs and seven resolutions for action created at the every Summit were seen around the world when the delegates returned home. They spoke out on television, in print articles and on the Internet about their experience of peaceful cooperation to achieve a peaceful future. And to build human media ethics in the digital age we are all living.
Main elements:
• International production of the media, produced by young participants through our new interactive media pedagogy innovation lab;
• Group of advisers together with team of instructors at the Media Education Centre working on the educational platform through different workshops for young people and their teachers (Intercultural Interactive Multimedia Educational Technologies is a project at the Media Education Centre we are implementing in our work). This will open space for Film Business, IC Technologies and educational journalism through research/development lab;
• WEB Application/Mobile WEB, TV, radio, documentary and Internet/blog/online section of the best works on post-production of the media, post-production of outcomes of the educational platform, and "hour by hour" multimedia documentation of the Workshop activities for final presentation and the media archives.