By Sara Buzurović (Serbian version below)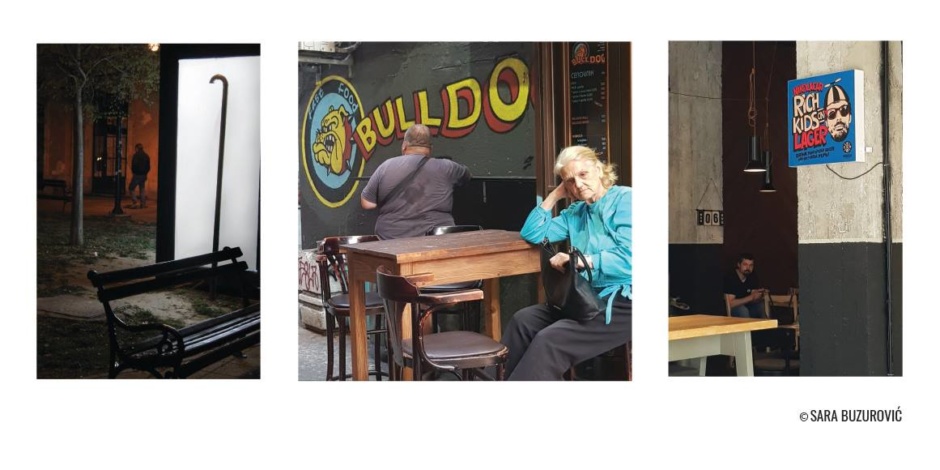 This Triptych is inspired by accidentally captured events of the area I move around. These photos are meant to be understood as a complement of relations and connotations among active participants. A passerby attending the event with the tendency for consuming photography which captures a unique moment when unknown participants and elements synchronize with the goal to become a whole. The bystander's first step to analyzing one of the photos should be to write and interpret the hidden meaning behind it. After that, they gain an insight into the achieved artistic intent of the frame. In my opinion, a correlation develops from the moment when the idea of a photo grows as a result of a thought from which the entire story comes together. Also, the participants in the photos are unknown and they cannot be controlled, only manipulated on the move. The idea derived as a concise but detailed analyzing of a specific space and the people within it. The shots are unique and unrepeatable because they are based on a place that is changeable. But the moments become permanent when captured.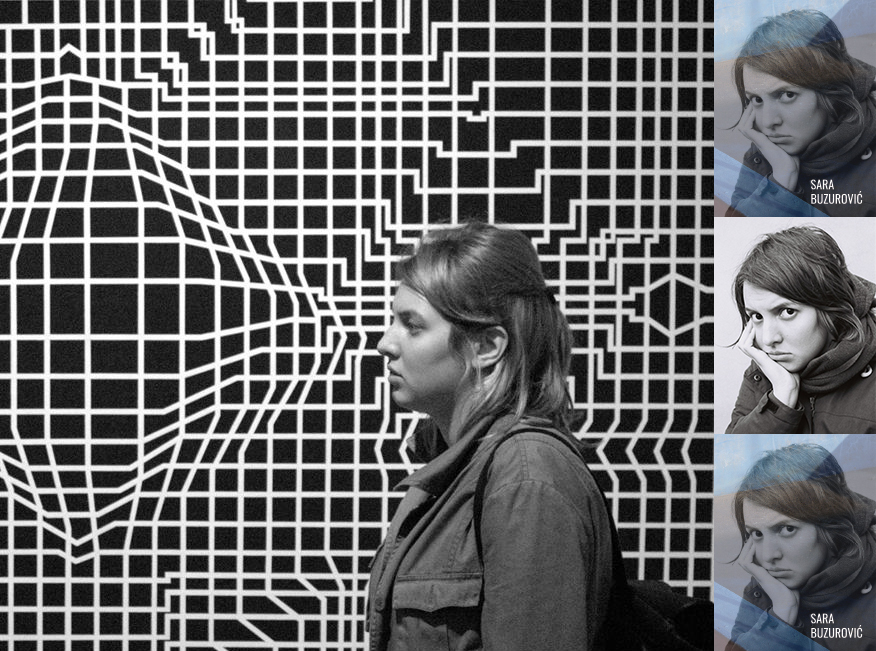 Trpitih fotografija crpi inspiraciju iz potpuno slučajno snimljenih dešavanja u okviru prostora u kojem se krećem. Ove fotografije treba razumeti kao skup relacija i  konotacija među akterima. Prisustvovanje dešavanju u  ulozi prolaznika sa tendencijom za konzumiranjem fotografije, koja će oslikavati jedinstven trenutak u okviru kojeg se nepoznati akteri i elementi sinhronizuju sa ciljem da načine kompaktnu celinu. Beleženje tih situacija i njeno iščitavanje iz konteksta motiva je prvi sloj sagledavanja prilkom prvog vizuelnog kontakta sa fotografijom od strane posmatrača. A potom i uočavanje postignute likovnosti u okviru kadra. Asocijacija za mene predstavlja polaznu tačku iz koje se rađa ideja fotografije kao rezultat razmišljanja u trenutku i na osnovu koje se nadograđuje čitava priča. Pritom akteri na fotografijama su nepoznati i nije moguće uspostaviti kontrolu nad njima, već samo u okviru kadra sa kojim se manipuliše u hodu. Ideja koja proističe kao sažeti deo analiziranja prostora i ljudi u okviru njega je jedinstvena i neponovljiva zato što je bazirana u prostoru koji je promenljiv. A nepromenljiv ostaje u trenutku beleženja.