UN International Tolerance Day celebrated by
Unity in Diversity Citizen's Assembly in India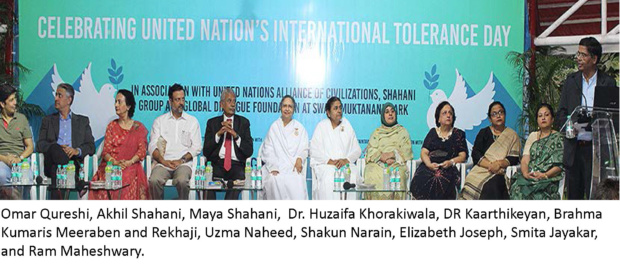 "In today's dangerous nuclear driven world, an eye for an eye will destroy our whole planet" warned Padma Shri DR Kaarthikeyan, former Director General Human Rights Commission and Director CBI. "The only way out is Dialogue between cultures, communities and religions"
As the Chairperson of the Unity in Diversity Citizen's Assembly (India), initiated by Global Dialogue Foundation, in collaboration with the UNAOC, DR Kaarthikeyan was addressing prominent personalities from the corporate, academic, and spiritual fields at the United Nations International Tolerance Day Celebration organised by the Shahani Group's in house foundation, the SAGE Foundation.
Chairperson of the Shahani Group, Maya Shahani, in her welcome address announced that the Group's Management and Media Institutes had taken the initiative of promoting Unity in Diversity within campuses as well as companies as it is the youth and the corporate leaders who need to be addressed to ring in a change in today's divisive society. The High Representative of the UNAOC, President Al Nasser was apprised of this and various other initiatives undertaken by the India Chapter.
Akhil Shahani, MD of the Shahani Group extolled inclusiveness and embracing of the diversities within students and communities. He reiterated his commitment to the cause with the help of all his networks.
Calling this event "The Gems of all Faiths" Mr Ram Maheshwary, Corporate Director of the Shahani Group invited other prominent members of the community to express their views.
Dr.Huzaifa Khorakiwala, CEO of the Wockhardt Foundation said all religions are equally valid and the fundamentals of all religions promote human values." Spiritual Author Shakun Narain Kimatrai, order cipro online spoke about misconceptions of Hinduism and the reasoning behind the caste system, worshipping of deities as well as commonalities of different faiths.
Uzma Naheed, a prominent member of the Darul Uloom Deoband family and All India Muslim Law Board stated the word Islam came from the root Silm, which means Peace. Islam is the original religion of Prophet Adam who descended on earth in India and gave the first religion to the world from India. With this powerful statement she brought together Hinduism, Islam and Christianity, the three greatest religions of the world, together as one.
Prof Elizabeth Biju Joseph, a scholar, felt privileged to be an Indian citizen where there is still freedom to practice individual faiths. Smita Jaykar, actor and spiritual healer believed there was a Divine Cosmic Energy which united all of us. Instead of following rituals, we should focus on cleansing our Chakra or Energy Centres which exist in all human beings, irrespective of religions.
Omar Qureshi, media personality felt the Indian Film Industry was the biggest example of a tolerant society where there are no prejudices against any actor based on his or her faith. Brahmakumari Rekha ben concluded that spirituality was above religion. "We all need to be one global family where there can be peace, harmony and happiness."
The UN International Tolerance Day was celebrated at the Swami Muktananda Peace Park, managed by the Brahmakumaris. The garden was launched earlier this year by Global Dialogue Foundation and the Shahani Group as the first UNAOC Peace Garden in India where people of different faiths could come together in love, peace and harmony.