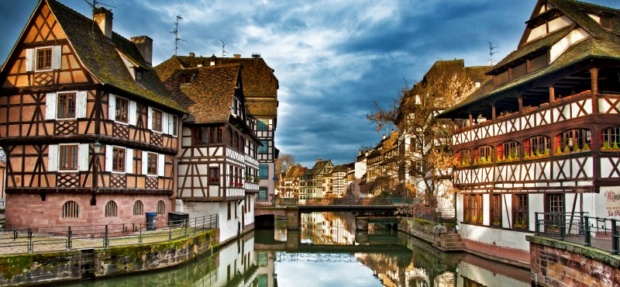 Transcript of an interview held by Fedor Kondur, Ukrainian Roma radio "Chiriklo" with Nawel Rafik-Elmrini, deputy mayor of Strasbourg, in charge of European and international affairs:
FK: Hello! I am Kondur Fiodor and I am from Roma radio "Chiriklo" from Ukraine. It is a pleasure that you invited us to your office. Please introduce yourself.
NR: Yes, of course. My name is Nawel Rafik-elmrini and I am a deputy mayor of Strasbourg. And I am in charge of European and international affairs. 
FK: Thank you very much! Tell me please your opinion about Strasbourg Club. How it helps Roma population in Europe to integration process of European society?
NR: First, I must precise that the Club of Strasbourg is the network of 60 European cities. And we are working in the frame of the Council of Europe based on our shared value, democracy, human rights and states of rule. And I think that in a Club of Strasbourg it is a best place where we can share good practices between cities. As we already started in the Commission of Roma people integration with some of the cities of Europe to share our best practice showing that if we give time, if we give energy to this issue of the integration of Roma people it has results. Roma people get integrated. For instance for my city, the city of Strasbourg, we get these issues as the priority in our public policies to integrate Roma people, because it is not acceptable the way they live in our city, in very bad situation. And we think that all human beings should live in dignity, in good houses, with water, with electricity, but also with chance to be integrated by learning French, also learning on how to look for job, because this is the final way to be totally flagyl online integrated. And we succeed, because people, the Roma people we have in our city, they are waiting for that kind of help. And we succeed with them. So, I think that this situation of success that we get in Strasbourg could show to the other cities that we can do it. I do not say it is easy, for Strasbourg it takes several years. We started in 2011 and we have some result today. So, it is a long-term process, but we deserve it. And maybe this is on why in Club of Strasbourg we will do it better than in other place, because we can show directly to our colleague from the other European cities that if we give time and energy, we can succeed.
FK: Thank you so much! And I hope that this experience we can put into Ukrainian society, especially for Roma people. And I want to highlight also the information that just few weeks ago we organized with the FAR Network from London (may be you know: the Football against Racism) the international tournament among national minorities with Roma teams and now we are looking for the partners to organize and create the network of the schools, football Roma schools in Ukraine. What do you think? The Strasbourg Club can join this action or not?
NR: I think it is an excellent idea and excellent project that we should share in the Club of Strasbourg, because we join the value of sport with the value of human rights and the benefits of Roma people. I think it is a good idea, beautiful idea.
FK: Thank you so much! And we wish you all the best in your activity and thank you again!
Transcribed from audio file by Valery Novoselsky, Roma Virtual Network (RVN)