Annecy 2013, Final Report
By Aleksa Nedic
Serbian Version Below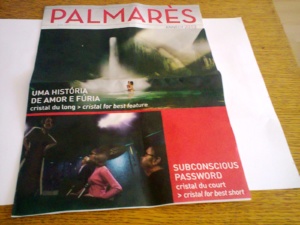 The morning after the this year"s  edition of Annecy Animation Film Festival was over and previous night celebrated in festive way, we  got printed results of  all juries, details at www.annecy.com
In short, Cristal for best short is granted to film of original title "Subconscious Password", made by Chris Lanreth from Canada.. We liked it, too, but the Junior Jury  from  that category decided in favor of film FEREL, made by Daniel Sousa from USA. Ferel got, also, Fipreci Special Distinction and one other award Festival Connextion Award.
It is worth mentioning  that Audience Award got short film "Letters of wifes" of  French author Augusto Zanovello, emotional and unusual view on war.
Other Junior Jury judging category of graduation students films put on the first place film "Rabbit and Deer" made by Peter Vacz from Hungary. His film was declared as the best film in Hungary in 2012. We, also, found it distinctive from others by its quality and clear message.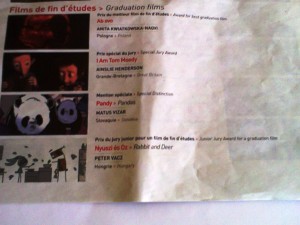 Annecy 2013, završni izveštaj
Piše: Aleksa Nedić
Jutro pošto je ovogodišnje izdanje Festivala animiranog filma u Anesiju završeno i predhodne noći  proslavljeno svečano, stigli su nam odštampani su rezultati svih žirija , a detalji se mogu pročitati na www.annecy.org
Ukratko, Kristalna nagrada za najbolji kratki film dodeljena je filmu "Lozinka za podsvest" ili u originalu "Subconscious Password", čiji je autor iz Kanade Chris Landreth.  Nama se, takodje, dopao taj film, ali je mladi žiri iz te kategorije prednost dao filmu "FERAL", autora iz SAD  Daniela Sousa. Feral je dobio i priznanje Fipreci za posebno dostignuće, kao i još jednu medjufestivalsku nagradu.
Vredno je pomenuti da je nagradu publike dobio kratki  film "Pisma žene" (Lettres de femmes) francuskog autora po imenu  Augusto Zanovello, emotivno i neobično vidjenje rata.
Drugi mladi žiri koji je ocenjivao diplomske filmove stavio je na prvo mesto film "Zec i Jelen" (Nzusczi es Oz, odnosno Rabbit and Deer). Autor je Peter Vacz iz Madjarske, a ovaj njegov film je proglašen za najbolji u Madjarskoj u 2012. I nama se ovaj film izdvojio iz mase kao kvalitetan i sa jasnom porukom.