The Danube for Peace Building a tool for sustainable development, inclusion, reconciliation and peace, intercultural and interfaith dialogue and understanding.
Our mission is to help people build better lives and countries achieve peace and sustainable development.
Our vision is a world where people can live full lives supported by appropriate, sustainable and resilient infrastructure and by the efficient, transparent use of public resources in procurement and project management.
Our purpose is to help people build better lives and countries achieve peace and sustainable development.
DANUBE WAVES: DIGITAL, INFORMATION, MEDIA AND PEACE ACADEMY 2019 will focus on the INNOVATIVE, STRATEGIC AND PERMANENT CREATIVE AND EDUCATIONAL partnership and networking for the SDG.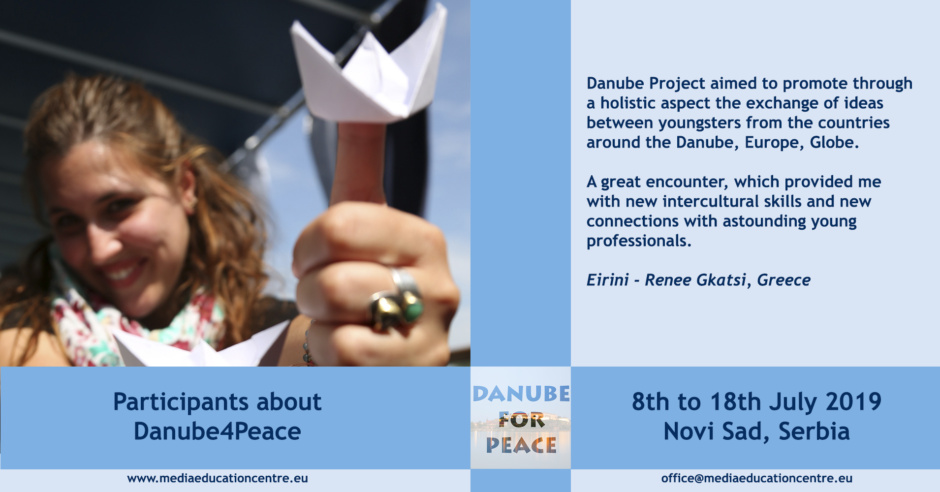 We would like TOGETHER with you to cultivate New Generation ready to combine Tolerance, Knowledge and Skill about Cultural, Historical, Traditional and Environmental Heritage in different Film, Media, Digital and Visual outcomes with content same good for motivation, wake-up Young Leaders vocation, education and exchange of skills and knowledge necessary for sustainable development…
This year we would like to implement all positive results from our previous projects. Danube for Peace involving CS Organizations, Schools, Rotary, Rotaract, Interact and Educational Institutions Primary from Balkans and Danube Region but we are open for partners from Western Balkans, South East Europe and all other Countries around the World.
Program C, 8th to 18th of July 2019:
Global Youth Forum, Festival and Rotary
8th of July
Arrival on the Belgrade Airport*
Accommodation
Welcome Dinner
9th, 10th, 11th July
Global Youth Forum
Tools for Peace and Sustainable Development
The Danube for Peace, The Best of the Best Danube Festival
Danube Waves: Parallel Panel discussion and different Workshops
Rotary, Rotaract and Interact, three important ingredients for the Sustainable Development Goals
12th of July
Travelling, the source for Peace and Cultural Discovery, one-day sightseeing
13th to 17th of July
danube Waves, the Danube for Peace Academy
Danube Film Academy and Workshop
Visual Literacy and Expression
Film and Media, tools for sustainable development
New Literacy, Leadership and Global Citizenship Education!
Media and Information Literacy: Truth in Media or What is Codex of journalism
18th of July
Departure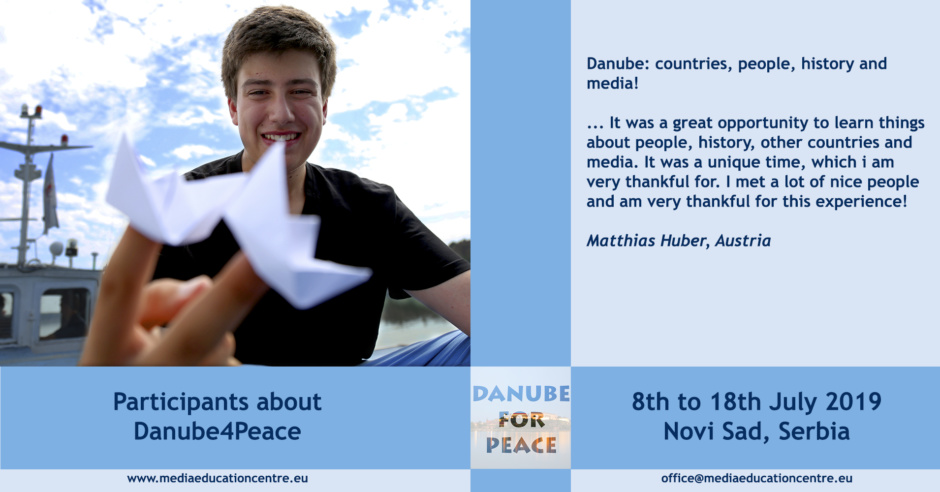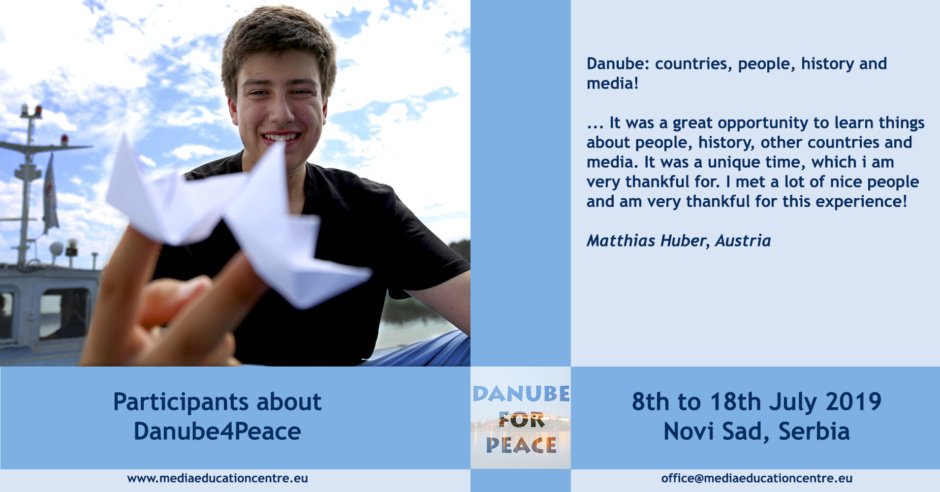 Working exclusively in educational environments of all categories, the Danube for Peace Media and Art Academy produces lively, vibrant films and videos that celebrate best practices, great teaching, innovation, and promote pedagogical reform. Our work is designed to explain, start and nudge conversations, and advocate for the best ideas in education and learning.
We will provide for all participants: transfers from the Belgrade Airport to Novi Sad and back, accommodation in two or three bedrooms, all meals from dinner at the arrival day to breakfast at the departure day what depend of the selected program, sightseeing on the 12th of July and some other touristic attraction from the program, Danube for Peace badge, pass for entrance on all Danube for Peace events, bag and certificate!