Danube Waves Media, Learning Design and Art Academy, special part of the Danube Peace Boat Concept, is created to connect main elements for the best possible and fastest development of the educational methodologies for 21st century.

History: after more than 10 years of Experience in implementation of different International Summits (AGORA, International Youth Media Summit, World Summit on Media for Children…) and Workshops (International Summer and Winter Media Literacy Workshop, Intercultural Traveling Workshop, European Culture One Minute Films Workshop…) we made brainstorming with our close partners and decide to create Danube Peace Boat E.U.R.O.P.E. project, place and space for development new models of Education, to use Traveling like sources for Discovery and to use our concept, 5xI methodology to develop " Design, Information and Media Models for Educational Revolution (DIMMER)"…
What is STRUCTURE of the Danube Peace Boat 2017?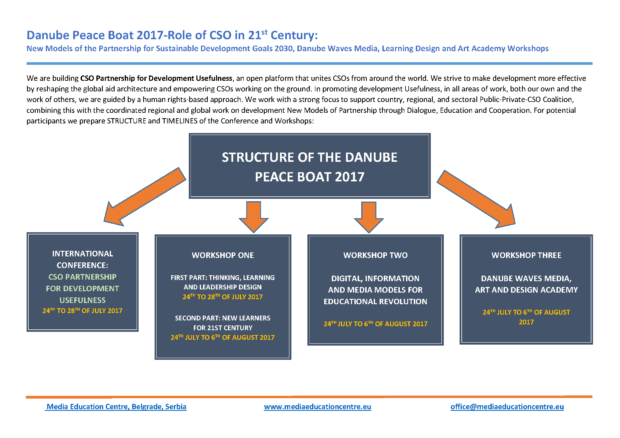 We are building CSO Partnership for Development Usefulness, an open platform that unites CSOs from around the world. We strive to make development more effective by reshaping the global aid architecture and empowering buy flagyl 400mg online CSOs working on the ground. In promoting development Usefulness, in all areas of work, both our own and the work of others, we are guided by a human rights-based approach. We work with a strong focus to support country, regional, and international Public-Private-CSO Coalition, combining this with the coordinated regional and global work on development New Models of Partnership through Dialogue, Education and Cooperation.
International Conference: CSO Partnership for Development Usefulness (24th to 28th of July) with three main issues:
a. Unity in Diversity, World Civil Society Movement with Launching UinD Serbia
b. New Models of Partnership for 21st Century and
c. Global Education and Education for sustainable development and role of SCO in UN Sustainable Development Goals 2030
Workshop ONE:
a. Thinking, Learning and Leadership Design (24th to 28th of July)
b. New Learners for 21st Century (24th of July to 6th of August)
Workshop TWO: Digital, Information and Media Literacy (24th of July to 6th of August)
Workshop THREE: Danube Waves Media, Art and Design Academy (24th of July to 6th of August)